Oriole Park at Camden Yards
New York Yankees Vs Baltimore Orioles
"You can't sit on a lead and run a few plays into the line and just kill the clock. You've got to throw the ball over the damn plate and give the other man his chance. That's why baseball is the greatest game of them all."
Former Orioles' manager, Earl Weaver
End of Our Season: Day 1, Friday:
The rising sun began to light the room. I looked at the clock, saw it was 5:15, groaned, stretched, rolled over and got out of bed.
"DAMN IT" I yelped as I accidentally kicked the corner of the bed on the way past.
Nicole just muttered something incoherent, rolled over and went back to bed. I followed the aroma of brewed coffee coming from the kitchen and poured myself a cup before going through the final checklist, making sure we were ready to head out on for our final game of the year...Baltimore.
As I poured myself a mug, I thought back on how far we had come in such a short amount of time. This grand adventure was concocted by an eleven year old who loves baseball and had taken us from Babe Ruth's grave site, in Valhalla, New York, to The Bronx, Boston, Washington D.C., Philadelphia, Queens, New York and finally, today, Baltimore. We had seen some fantastic games, experienced what the different cities had to offer, eaten a lot of great food, spent time with family and friends and met a lot of people who enriched our lives along the way. We started this blog, which has made us new friends and opened up doors for us in different stops and it has grown into something more than I ever could have hoped for. All in all, I'd say that we have had a very rewarding first leg of our journey.
The sound of the bathroom door opening brought me back from my daydream and I smiled. One of the people who has made this such a fun adventure, was exiting the bathroom and getting ready to go, while another was on her way to the airport, to meet us in Baltimore.
Heather, our house guest, had been introduced to us by a mutual friend in a wacky circumstance and had become part of our "extended family". Back in January, I had been in Boston, watching college hockey, when my friend Mike had asked a childhood friend of his, who now lived up there, to join us. Heather and I started talking, and when she found out I was from Ramsey and had an eleven year old, said that she had a friend in Ramsey who had a son about that age. It turned out that not only did I know her friend Jen, but she and her family were friends of ours as well. I had coached baseball with her husband John, and her son went to the same school as Ryan and has played on many baseball teams with him. Heather and her husband Tim have been part of our traveling roadshow ever since and have joined us for college hockey, baseball, parties and now our Baltimore adventure.
After making sure the car was packed, and showering, it was time for me to wake the munchkins. I knew this was not going to be fun, but we had to get on the road.
"Ryan, c'mon," I said softly.
"Go away" he responded, not happy to be disturbed.
"OK, I'll get Brendan first. But you need to get up as soon as I come back."
"Go away" he said again. This time less annoyed.
I laughed as I went to Brenny's room.
"Brendan" I said, trying to coax him out of bed.
"No!" was his response.
"It's time to go" I said as nicely as I could.
"I don't wanna go"
"Then you don't get to go to the aquarium today" I told him.
"The aquarium?" he said, suddenly remembering. "OK, let's go"
The hard part now being done, I went back to get Ryan up, only to find him dressed and ready to get on the road.
"I thought you were staying in bed?"
"Nah, I want to get going. This is the last stop of the year and I want to get as much in as possible" he said.
"Sounds like a plan" I told him. "Let's get everyone in gear and moving."
The ride down was a pleasant one and the three hour trip passed in no time. The boys watched movies while Nicole, Heather and I talked about everything from books, to baseball, to friends, to how this particular stop was a year in the making.
My cousin, Christine, had gotten married in August of 2011 and we were supposed to be taking a group to Camden Yards the next day to see the Yankees play the Orioles. Hurricane Irene wiped out the ball games that weekend, but thankfully didn't affect the wedding ceremony. The Orioles let us trade in our tickets for a game of our choosing this year and we had decided to again choose the Yankees. It so happened that this was the only weekend that the two teams played in Baltimore, and we found it fit in perfectly with our ballpark tour. I ordered a few more tickets, made hotel reservations for the same Hampton Inn we used for the wedding and everything was set for this weekend. This time, we just needed the weather to cooperate.
We pulled into the Hampton Inn B.W.I. a little past 10:00 AM and were excited to be out of the car and ready to start our adventure. The hotel is in the perfect location and presents first rate accommodations that make it a more attractive choice than one inside the city. First and foremost, the price is about one third, per night, of what the Hampton Inn is in the city. The rooms are clean, the staff is friendly and courteous, there is a free shuttle to and from anything within a 15 minute ride and the tremendous breakfast bar they provide is included in the cost. Most importantly, for us, is the fact that there is a light rail system that drops you off right in front of Camden Yards and M&T Stadium, (where the Ravens play), in the heart of the city. The hotel was here we would meet Emily, after she flew down from Boston earlier that morning.
Emily is another member of our traveling road show that Ryan and I met along the way. She has known Nicole for many years, but only became involved in our adventure after reading this blog and wanting to meet up with us when we hit Fenway Park. Like Heather, she is a transplanted New Jerseyan living in Boston, but she is a die-hard Yankees' fan who has a ticket package at "The Big Ballyard in the South Bronx". After going to the Fenway game with us, Nicole put forth the idea of Emily becoming my "baseball wife" every summer so she doesn't have to deal with me. Since then Emily and I have gone to games with friends, with Ryan, and with Brendan. We were excited to have her along on this trip as well.
After being unable to check in to the hotel, because it was so early, we took the shuttle to the light rail and headed into the city for the day's adventure. Our first stop was the ballpark. I had seen that the Orioles offered tours, and Heather, Ryan, Emily and I were interested in going. Brendan and Nicole, not so much.
We stepped off the train right in front of the ballpark and walked over to the ticket window, where after waiting in line for a few minutes, we purchased four tickets to the Saturday morning tour. We then started walking towards the aquarium, when Ryan remembered that he wanted to pick up a game day program and an Orioles' hat. Since the team store was right here, I figured it was a no brainer. I did not, however, take one thing into consideration: Brendan's undying desire to get to the aquarium as fast as possible.
"Why can't we stop on the way back?" he wanted to know.
"Because we're here now" I told him.
"But it's going to take too long" he protested.
"It'll be about fifteen minutes, I countered.
"That's fifteen minutes too long. I've been waiting all summer to go to the aquarium, he whined.
"It'll be there in fifteen more minutes. It's not going anywhere" I said, getting more annoyed by the moment.
We spent exactly twelve minutes in the team store. In know that because Brendan followed me around, holding my phone and telling me every time another 5 minutes passed. After getting Ryan's hat, program and scorecard, we left the store, which I figured would make Brendan happy. It did, but only for about 3 minutes.
"How far is it?" he wanted to know
"A little ways" Nicole told him.
"It's hot...I'm tired...My feet hurt...How much longer?" he complained.
"We're almost there" Emily said, trying to soothe him. "Think of all the great stuff we're going to see."
Ryan and I quickly walked a few paces ahead so we were out of earshot.
"
There it is, there it is
" came Brendan's excited voice from behind us.
Sure enough, rising up, around the corner, was the aquarium. I couldn't help but smile and chuckle over how excited he was. His enthusiasm was enough to make me forget the heat, the humidity and how crazy he had made me over the last hour.
"C'mon, Brenny" I called. "Let's see some fish."
Now, to be perfectly honest, the aquarium is not as exciting to me as it is to him. But, just being with him, seeing the look on his face and the excitement in his eyes is the best part of the whole experience. It didn't hurt that we were also getting out of the 90 plus degree heat and going somewhere air conditioned.
The National Aquarium
The National Aquarium
is located in Baltimore's Inner Harbor, at 501 E. Pratt Street and is open to the public seven days a week. It opened in 1981 and houses over 16,000 different animals, including sharks, birds, dolphins, frogs, turtles and jellyfish. It has several exhibits, such as: a tropical rain forest, a large shark tank, an Australia replica habitat, an open dolphin tank, an Atlantic reef and many others. Its mission is to "inspire conservation of the world's aquatic treasures...and confront pressing issues facing global aquatic habitats through pioneering science, conservation, and educational programming."
Heather had decided that she would not be joining us on our aquarium adventure, so she grabbed her book and sought out the nearest sunny spot to relax, read and enjoy an adult beverage...or two. Emily, however, was as enthused as Brendan and couldn't wait to get inside and see all the marine life. I was excited for Brendan and thrilled to be getting out of the heat, while Ryan was somewhere in between.
Emily Loves Turtles
We spent the next, almost, three hours wandering all over the aquarium. Nicole, Brendan and Emily were in their glory and it was fun watching them interact and talk about the different sea creatures we were seeing. Emily is fond of turtles and was taking pictures as quickly as she could. Brendan was bouncing from one exhibit to the next, trying to explain everything he knew (which is quite a lot, imagine my passion for baseball and that's Brendan and animal life) to anyone and everyone that would listen, while Nicole was laughing and taking it all in with them.
Brendan is a Bit Excited
We saw turtles, all kinds of fish, dolphins doing tricks, birds (one almost crapped on my head in the rain forest exhibit), reptiles in the Australian exhibit, jellyfish and, of course, sharks. Brendan could hardly contain himself from running from tank to tank. He was
that
excited, and would have kept going if we would have let him. On the way out we promised him he could get something from the gift shop, just as Ryan had gotten his hat, program and scorecard and that's when he innocently almost set off World War III.
"Can we go through again?" he asked Nicole.
Before she could answer I saw the look on Ryan's face and had to clamp my hand over his mouth before he said something that
I
would end up being sorry for.
"I don't think so sweetie" she told him gently. "It's getting late and Heather is waiting for us."
I mistakenly removed my hand from Ryan's mouth a bit too early.
"Thank God for small fav..." was what he got out before I could clamp my hand back over his big yap.
It's not that we didn't like the aquarium, it's that we don't love it the way Brendan does and no one is more like me when he's had enough as Ryan is.
Family Photo, In The Aquarium
"Quiet," I hissed at him. "Brendan is excited that we're doing this and you are not going to take the fun out of it."
"Do
you
want to go through again" he asked staring at me, knowing the answer.
"No, but that's not going to happen, so hush" I told him. "I'm enjoying being with Brendan, and he's excited."
Thankfully, Bren didn't hear Ryan, and agreed to go meet Heather.
After we all found one another it occurred to us that we were hungry. It was too early for dinner, but just about the right time for a snack and some "refreshment", so we went looking for a place to sit down and grab some appetizers and a few beers. I knew where I wanted to go, but now I had to find it.
After a few stops and starts we found the place I was looking for.
J. Paul's
is a restaurant overlooking the harbor, located at 301 Light Street. It serves lunch and dinner daily and brunch on weekends. There is a raw bar and an outside patio area with a full sized bar. The menu is a cornucopia of mixed fare, but the specialty is definitely their seafood. We took a seat inside (did I mention it was hot) and shared a plate of soft pretzels with warm crab dip, wings and some nachos. There was a wide selection for good craft beers and we tried a few of the local breweries, such as: Heavy Seas Small Craft Warning, Star Hill Northern Lights I.P.A., Clipper City Pale Ale and J. Paul's Amber Ale. We laughed, talked, ate, drank and watched the traffic out in the harbor. One of the more notable things we saw was a pirate ship, fulley decked out with water cannons and guns, cruising the harbor and shooting at unsuspecting folks. I found out that it was run by a company named
Urban Pirates
and the boys were very interested in taking this cruise. Unfortunately, we didn't have the time, but we now had another reason to come back to Baltimore.
After returning to the hotel, we checked in, cleaned up, relaxed for a bit and decided to head out to dinner. There were quite a few restaurants that the shuttle could take us to, and we settled on Ruby Tuesday, as it had a menu that worked for six, tired, hungry and road weary travelers.
By the time we returned to the hotel, we were all ready for a night's rest. We flipped on the TV, watched the end of the Yankees/Orioles' game and settled in. Since Ryan and I couldn't sleep, we borrowed Emily's phone and watched the Red Sox game on her M.L.B. app, while everyone else passed out. Ryan wanted to know about the Orioles' history, so we did a little research before calling it a night.
Baltimore Baseball History:
The history of the Baltimore Orioles is a long and convoluted one that is often mis-stated. The American League came into being in 1901 and had eight charter members; the Baltimore Orioles, Boston Americans, Chicago White Stockings, Cleveland Bluebirds, Detroit Tigers, Milwaukee Brewers, Philadelphia Athletics and Washington Senators. The Orioles played in Baltimore for the leagues first two years before the franchise was disbanded, transferred to New York and was reincarnated as the Highlanders, who eventually became the Yankees. Because of these occurrences, and the fact that Baltimore went without a baseball team until 1954, many people mistakenly think this was the beginning of the Orioles' story. However, the history of today's Orioles can be directly traced back to another of the A.L.'s charter franchises...the Milwaukee Brewers.
The Brewers played in the American League's inaugural season before moving to St. Louis and becoming the Browns in 1902. For the first two decades of their existence St. Louis was considered a "Browns town". The team even challenged the Yankees for the 1922 pennant, but eventually fell short in the end. Owner Philip DeCatesby Ball predicted a World Series championship in St. Louis by 1926 and he was correct. Unfortunately for the Browns and their fans it was the Cardinals that won, beating the Yankees in seven games. From then on, St. Louis belonged to the redbirds, as the Browns fell into the league's cellar.
The Browns won their only American League pennant in 1944, but even this was "tainted", as the league was watered down because most major league players had joined the war effort. To make matters worse, the Browns faced off against the Cardinals in the World Series (the last to be played exclusively at one stadium: Sportsman's Park) and lost in six games. This would prove to be the "high water mark" for the Browns as it would be their last winning season in St Louis.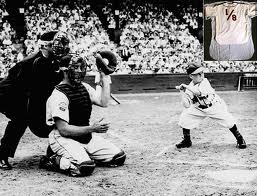 In 1951, Bill Veeck purchased the Browns. He was known more for sideshow antics than for winning baseball and on that front he did not disappoint. As a publicity stunt, Veeck brought in a 3' 7, 65 pound midget, Eddie Gaedel to be a pinch hitter and 48 year old Satchel Page to pitch for the Browns. To say these antics did not go over well with the other owners was an understatement.
Veeck didn't believe St. Louis was big enough to hold two franchises and it was his goal to force the Cardinals out. He hired former Cardinal stars, such as Dizzy Dean and Rogers Hornsby to work for the Browns, removed all Cardinals' colors and memorabilia from Sportsmans' Park and when Cards' owner Fred Saigh was convicted of tax evasion and needed to sell the team, it looked like Veeck would get his wish. However, when Saigh took a lesser bid from Anheuser-Busch, and they announced the team would not be leaving St. Louis, Veeck realized it was the Browns who would have to relocate.
Veeck tried to move the team back to Milwaukee, but was rebuffed by the other owners. He then met the same fate when trying to go to Baltimore and in the end realized he would have to sell the franchise. Ironically, he wound up selling the Browns to a group of Baltimore investors, led by Clarence Miles, who brought baseball back to the city for the 1954 season and renamed the team the Orioles. Baseball had come back to "Charm City", even though it was via a circuitous route.
1954-1991: Memorial Stadium Years:


When the 1954 season opened, the Orioles called Memorial Stadium home. The ballpark was located at 33rd Street (south), Ellerslie Avenue (west), 36th Street (north) and Ednor Road (east). It was also known as "The Old Gray Lady of 33rd Street" and "The World's Largest Outdoor Insane Asylum" when the Baltimore Colts played there on Sundays. It seated 47,855 on Opening Day and in 1991 was enlarged to hold 53,371. The field dimensions were 309 to Left Field, 446 to Left-Center (reduced to 378 in 1990), 445 to Center (reduced to 405 in 1980), 446 to Right-Center (reduced to 378 in 1990) and 309 to Right.


Memorial Stadium has also hosted many other sports teams and events, such as: the N.F.L.'s Baltimore Colts (1950-1983) and Ravens (1996-1997), the Baltimore Stallions of the C.F.L. (1994-1995), the N.A.S.L.'s Baltimore Bays (1967-1968), the Baltimore City College vs. Baltimore Polytech Institute Thanksgiving Day Football Game (aka: Poly vs. City,1954-1999), the Calvert Hall College vs. Loyola Blakefield Thanksgiving Day Football Game (aka: The Turkey Bowl, 1957-1999) and an occasional Army vs. Navy football game.
An unusual occurrence also took place at Memorial Stadium in December of 1976. On that date, a Piper Cherokee airplane crashed
into
the stadium's south end zone just after the conclusion of the Colts/Steelers' playoff game. Because the Steelers had won the game 40-14, not many fans were left in the stadium and there were no serious injuries.
The Orioles' inaugural season began by splitting two games with the Tigers, in Detroit, before coming home to beat the White Sox on Opening Day. The euphoria wouldn't last long as the team lost 100 games and missed finishing dead last by three. After the season, the seeds of future success were planted when the O's hired Paul Richards as their manager/general manager. Richards would put into practice the "Oriole Way", which had all ball players within the organization working on fundamentals, the exact same way, through every level of player development and into the major leagues.
For the next few years the Orioles began a steady climb toward respectability, while at the same time stockpiling young talent. During these years, players such as; Ron Hansen, Milt Papas, Steve Barber, Dave McNally, Boog Powell and Brooks Robinson all honed their craft at different levels of the organization. All would contribute to the team's rise to power in the near future.
In 1958 Richards was relieved of his G.M. duties to concentrate on managing the ball club. In his place, Lee MacPhail was hired and he helped streamline the club with his reorganization of the scouting department, which ensured the Orioles were looking at the prospects they felt best suited their ball club.
Richards resigned with a month to go in the 1961 season to become the first manager of the Houston Colts. He was replaced by Luman Harris for the remainder of the season, and then Billy Hitchcock took over during 1962 and 1963 seasons. It was a troubling time, as Richards had managed the club to second place in 1960 and the O's believed they were trending in the right direction, but the club fell back to the middle of the pack over the next few seasons.
Brooks Robinson
Hank Bauer was given the managerial job in 1964 and he led the O's to a third place finish. Many thought they could have won the A.L. Pennant, but a wrist injury sidelined Boog Powell in August of that year and the club had trouble adjusting to his absence. Brooks Robinson, however, showed a portent of things to come as he drove in 118 R.B.I's and won the A.L. M.V.P. During that off season the O's grabbed Paul Blair from the Mets, in the Rule 5 draft, and Curt Blefary from the Yankees off waivers, but the final piece of the puzzle would come a year later.
In 1965 the Orioles finished 26 games above .500. Unfortunately both the White Sox and the Twins finished the year with better records, so the O's were relegated to third place in the American League. Their record, however, was not the biggest story of the year. On December 9, the Orioles traded their undisputed pitching ace, Milt Papas, pitcher Jack Baldshun and outfielder Dick Simpson, to the Cincinnati Reds in exchange for superstar outfielder Frank Robinson.
Frank Robinson
The 1966 season was a memorable one for the Orioles. Everything they had been working towards came together and the team flourished. Led by newly acquired Frank Robinson, who won the Triple Crown and the A.L. M.V.P. (.316 average, 49 HR's and 122 R.B.I.'s), the Orioles finished 34 games over .500, with a record of 97-63, outdistancing the second place Twins by nine games and reaching the World Series where they would play the Los Angeles Dodgers.
Going into the Series most baseball pundits felt that the Orioles were the underdog, especially when the Dodgers would be sending Sandy Koufax and Don Drysdale to the mound. But, it would be the brash birds from Baltimore that would own the pitching, with a 0.50 team ERA. The Orioles would score more runs in the first inning of the first game (3) then the Dodgers would score the whole series (2). Baltimore would win the series in a four game sweep (5-2, 6-0, 1-0, 1-0) and capture the franchise's first ever championship.
1967 would be a down year as the defending champs would finish in sixth place, with a record of 76-85, and Hank Bauer would be replaced by fiery Earl Weaver about half way through the next season. Weaver's team would rebound to finish second in the American league (91-71) and this would be a springboard for the next few years of dominance.
Earl Weaver was signed by his hometown Cardinals out of high school but never made the big leagues. He was traded to the Pirates and then went to Baltimore in 1957. Weaver's managerial career started in 1956, with the unaffiliated Knoxville Smokies in the South Atlantic League. In 1957 he moved on to the Baltimore organization, where he rose through the ranks ( Fitzgerald of the Grapefruit League, 1958; Dublin, Georgia, 1959; Aberdeen, South Dakota, 1960-1961; Fox City, Wisconsin, 1962; AA Elmira Pioneers, 1962-1965 and to the AAA Rochester Red Wings in 1966) before being promoted to first base coach in 1968, and then given the reigns in July of that year.
By mid 1969, the Orioles had taken on the fiery, no nonsense, attitude of their skipper and won the American League East by 19 games over the defending champion Detroit Tigers. Led by Co-Cy Young Award winner Mike Cuellar, pitchers Dave MacNally, Jim Palmer and players such as Elrod Hendricks, Paul Blair, Boog Powell, Brooks and Frank Robinson and Davey Johnson, the O's won 109 and beat Minnesota, three games to none, in the first year of A.L.C.S. play, and faced the New York Mets in the World Series.
On paper, this World Series looked like one of the most lopsided mismatches in baseball history, and when the Orioles won Game 1, 4-1, it only cemented that opinion in people's minds. The Mets, however, were not about to listen to the prognosticators and reeled off four straight wins (2-1, 5-0, 2-1 in ten innings, and 5-3) to improbably capture the World Series crown.
In 1970 and 1971, the Orioles would win the American League East and then win the A.L.C.S. to advance to the World Series, where they would face the Cincinnati Reds (1970) and the Pittsburgh Pirates (1971). They would feel the high of winning in 1970, as they dispatched the Reds in five games, as well as the heartbreak of losing in seven hard fought games in 1971.
Though they missed the playoffs in 1972, the O's would rebound and come back strong for the 1973and 1974 seasons. They would win the American League East in each of those years, but always lost out to the Oakland A's, who were on their way to winning the World Series both times and three years in a row. During these years the Orioles were starting to phase out some of their veterans, such as Davey Johnson and Brooks Robinson, replacing them with future All Stars Bobby Grich and Doug DeCinces.
1975 was another year of turnover and heartbreak, as the Orioles traded Rich Coggins and Dave MacNally, but brought back players such as Ken Singleton, Lee May and pitcher Mike Torrez. Though they played well, the O's lost the A.L. East to the Boston Red Sox, who were on their way to an epic World Series against Cincinnati's "Big Red Machine".
While 1976-1978 brought players such as Mike Flanagan, Eddie Murray, Tippy Martinez and Rick Dempsey into the fold, the Birds lost the American League East each year to the Yankees, who went to three straight World Series and won two.
1979 saw the O's back to their winning ways, as they won the A.L. East behind Cy Young winner Mike Flanagan and outfielder Ken Singleton. They beat the Angels in the championship series only to fall to the "We Are Family" Pirates in the Fall Classic. What was so heartbreaking for the team and its fans was that the Orioles were up three games to one and couldn't close the deal in any of the final three.
Cal Ripken Jr. Wins R.O.Y. in 1981
Though the new decade saw the Orioles win 100 games in 1980, they lost out to the Yankees who won 103. In 1981 they had the best record during the full year, but the season was marred by a labor dispute and the winners of each half went to the playoffs as Baltimore watched from the outside, again. The bright spot in 1981 was the debut of shortstop Cal Ripken Jr., who would be the franchise's cornerstone for the next two decades. In 1982 the Orioles were eliminated by Milwaukee in the final week of the season, Earl Weaver retired, and Joe Altobelli took the team. Changes were afoot.
1983 would turn out to be the last hurrah of Oriole greatness that had been seen since the late 1960's. Altobelli would lead the team to an American League East title, but the real hero was Cal Ripken Jr., who earned the first of his nineteen All Star berths, batted .318, with 27 HR's, 102 R.B.I.'s and producing a .970 fielding percentage, while winning the A.L. M.V.P. The O's defeated the Chicago White Sox in the American Laegue Championship Series three games to one and outscoring the Chi-Sox 19-3, to move on to the World Series against the Philadelphia Phillies.
The 1983 World Series was called the "I-95 Series" in reference to the interstate highway that the fans, and teams, used to travel between each city. Baltimore quickly found themselves behind when the Phillies took Game One by a score of 2-1, but came roaring back to win the next four in a row (4-1, 3-2, 5-4 and 3-0) and capture the title. Catcher Rick Dempsey won the World Series M.V.P., batting .385, with a .923 slugging percentage and playing great defense. Unknown amidst the celebration was the fact that the O's would never again return to a Series. Dark days were ahead of them.
Over the next five years the Orioles went into a continuing slide. 1986 saw them finish in last place for the first time since moving to Baltimore, and in 1988 they began the season with twenty-one straight losses and finished with 107. 1989 brought a feeling of hope as the team surprisingly battled Toronto for the A.L. East title, but fell short in the end, and settled for second place. The O's finished under .500 for the next two seasons, and the only highlight was Ripken winning his second M.V.P. award. The end of the 1991 season marked the last year the Orioles would spend in Memorial Stadium, Camden Yards was about to open.
There had been a cry to replace Memorial Stadium for quite a while, and in 1989 construction began on a new facility that would be for baseball only. The H.O.K. firm won the architectural bid and came up with a design for a "retro" ballpark. Prior to this, ballparks had been built as multi-purpose stadiums that would allow for multiple sports to be played within the structure, Camden Yards changed that thinking going forward.


Constructed at 33 West Camden Street, a few blocks away from Baltimore's Inner Harbor, Oriole Park at Camden Yards was built on the site of the Baltimore and Ohio Railroad freight yard. In fact, the B&O Warehouse, which sits beyond Eutaw Street (just past the Right Field fences), was incorporated into the design. This warehouse is a classic railroad structure, which stands eight stories high, 1,116 feet long, and was operational from 1899 through the 1960's before falling into disrepair and slated for demolition. Today, the structure has been converted into the team offices and facilities for the Orioles, and has a private club which is used for banquets and weddings, and dominates the landscape while watching a game.


The name was originally a source of contention, as former owner Eli Jacobs wished to call it Oriole Park, while the governor of Maryland wished to see it called Camden Yards. A compromise was reached and the official name of the facility became Oriole Park at Camden Yards.


The park opened to much fanfare on April 6, 1992, when the Orioles hosted the Cleveland Indians. The O's christened their new home with a 2-0 win, as Rick Sutcliffe pitched a five hit, complete game, shutout and Billy Ripken (Cal's brother) and Chris Hoiles drove in the two Baltimore runs.
From 1992-1995 the Orioles continued to improve, yet failed to make the playoffs in any of those years. Cal Ripken, Mike Mussina and Rafael Palmeiro provided the core leadership for the team as it continued to mature. The Orioles finished third in the American League East in 1992 and 1993, were in second place in 1994 when a labor dispute forced the cancellation of the rest of the season and playoffs and finished back in third place in 1995. During this time, however, two events would change the fortunes of the ballclub and bring the fans back to parks across the country, after the strike of 1994.
In 1993, owner Eli Jacobs was unable to continue funding the day to day operations of the ballclub and lost it in bankruptcy court. A lawyer named Peter Angelos was awarded the team, and for the first time since 1979 a person from Baltimore owned the club. Angelos, at the time, promised to make the changes necessary to put the Orioles back in contention and was greeted as a conquering hero by the fan base.
After the cancellation of the last 2 months of the regular season, playoffs and World Series in 1994, the fans were showing their displeasure by staying away from ballparks around the country. M.L.B. needed something to bring them back and help restore its battered image. That something would be Cal Ripken's assault on Lou Gehrig's consecutive games played streak.
Celebrating With the Fans
Ripken's streak began on May 30, 1982 and he had started every game since. He played through sickness, injuries; such as sprains, strains and broken bones, and had become known as "The Iron Man of Baltimore". Until Ripken challenged it, the streak belonged to Lou Gehrig of the New York Yankees, and stood at 2130 games. The record breaking game was played on September 6, 1995, when the Orioles were at home and once it became official, the game was halted while Ripken ran around the perimeter of the field, sharing the moment with the fans in attendance. Gehrig's streak, which had endured for 56 years, was broken amidst family, friends, fans and a national TV audience. It was a great night for M.L.B., who was still trying to win back the fans.
Jeffrey Maier
For the next two years the Orioles were contenders once again. With players such as; Ripken, Mussina, Palmeiro, B.J. Surhoff, David Wells and Roberto Alomar, Baltimore charged into the 1996 playoffs, as the Wild Card, beat the Indians in the A.L.D.S. and met the New York Yankees in the Championship Series. The Orioles fell to New York four games to one, but not without controversy. In the bottom of the eighth inning of Game One, the Orioles held a 4-3 lead. Derek Jeter lifted a fly ball to deep right field which appeared playable until a fan, 12 year old Jeffrey Maier, reached over the wall and deflected the ball into the seats. Umpire Rich Garcia ruled it a home run, despite the protests of right fielder Tony Tarasco. The Yankees would go on to win the game, on a Bernie Williams home run in the 11th, and the series, in five games.
In 1997 the Orioles won the American League East, going "wire to wire", and beating out the second place Yankees by two games. They beat the Seattle Mariners in the A.L.D.S, in four games, before falling to the Cleveland Indians in a hard fought six game A.L.C.S. It would be Baltimore's last winning season for the next fifteen years.
In the years between 1997 and 2012 the Orioles would flirt with respectability, but never achieve success. They would never place higher than third place and even finished in the basement three times. Their collective record was 990-1340.
During these lean years Cal Ripken's streak would end (1998) at 2632 games, he would retire (after the 2001 season), have his number retired (2001) and be inducted into the Baseball Hall of Fame (2007). He would exit the game as possibly the most beloved Oriole, and be respected across the sports world for the way he played the game and handled himself with grace, dignity and class, both on and off the field.
By the middle of the 2010 it was clear that a full blown change was needed. Peter Angelos, who once had been hailed as a savior, was now being vilified for the damage that years of neglect, bad decisions and poor choices with personnel had inflicted upon the team. In July, the team hired Buck Showalter to turn its fortune around. Showalter had been known for his ability to get the most out of his teams during tenures with the Yankees, the Diamondbacks and the Rangers. He preached hard work, accountability and an understanding of the fundamentals of the game. If anyone would be able to put the O's back on the right track it would be him.
Baltimore slowly came back to life and was becoming known as a team that would play hard and give 100% at all times, but was never really a threat to challenge for a playoff berth. That all changed with the 2012 season. The O's got off to a hot start, but cooled off and found themselves ten games behind the Yankees in mid-July. But, a blistering August pulled them to within one game of New York, heading into a four game series in Baltimore, in early September. The Orioles won the first game, the Yankees took the second and that's where things stood as we prepared for our game on Saturday, September 8.
Saturday morning found us ready to tackle another day in "Charm City". First things first, the kids wanted breakfast and eat they did. As I mentioned, the Hampton Inn provides a tremendous spread that includes omelettes sausage, bacon, cereal, make your own Belgian waffles, hash browns, oatmeal, fresh fruit and all sorts of juices. For a while it looked like Ryan was going to make them rethink the "all you can eat" concept and I knew that lunch was not going to be something that he would be interested in for a good long while.
After finishing breakfast and cleaning up, the six of us headed back into the city, once again taking the light rail. Heather, Emily, Ryan and I were going to tour Camden Yards and Babe Ruth's birthplace, while Brendan and Nicole, who weren't really interested in those things, were going to visit
Port Discovery
, which is a children's museum. This worked out just fine because Bren was going to have his fun while we had ours and we would all be going to the ballgame later that evening.
We found out right away that purchasing the tour tickets on Friday was a good idea, because our tour was now sold out and so were the three directly after it. With half an hour to kill and it being a steamy, muggy morning, we decided to check out the
Sports Legends Museum At Camden Yards
. The building is located right outside the ballpark box office and offers exhibits on the history of the Orioles, Colts, Ravens, Blast, Negro Leagues, The Preakness and regional NCAA teams. Unfortunately we didn't have enough time to justify spending the money on admission before our tour began (the museum is four floors), so we meandered through the gift shop and looked at what we could in the areas we were allowed to be in.
At 11:20 we wandered out into the courtyard at the north end of Eutaw Street, which is home to seven, four foot tall, aluminum numbers (4, 5, 8, 20, 22, 33 and 42) which represent the uniforms of Earl Weaver, Brooks Robinson, Cal Ripken Jr., Frank Robinson, Jim Palmer, Eddie Murray and Jackie Robinson and have been retired by the organization.
"Babe's Dream"
Also in the courtyard is a statue of Babe Ruth, which is entitled "Babe's Dream". The project is the work of Baltimore artist Susan Luery and was commissioned and placed in Camden Yards in time for Ruth's 100th birthday, on February 6, 1995. It is 16 feet tall, made out of bronze and features a young Babe, yearning to play in the big leagues and escape his childhood years spent in a Baltimore reform school. The statue does have one noticeable flaw, which Ryan picked upon right away; Ruth is carrying a right handed glove and he was a lefty. After taking in the courtyard and snapping a few pictures, we joined the tour group and our guide, Bob, in front of the team store further down Eutaw Street.
Eutaw Street is the area directly behind the outfield wall and in front of the B&O Warehouse, which seems to be in all pictures of the ballpark. The street is open daily to pedestrian traffic, but closes at 3 PM on game days and becomes another extension of the ballpark. It is a favorite spot for pre-game festivities, where fans can meet, search out batting practice "home run" balls and sample the different food and drink choices before heading inside for first pitch.
The tour started with a history of Baltimore baseball and how the iconic warehouse was incorporated into the new ballpark's imagery. Ryan tried to pay attention, but I could tell he just wasn't into the history of the warehouse. He was, however, paying close attention to the baseball silhouettes all over the walkway.
Ryan with Robbie Cano's "Plaque"
"What are these for?" he asked.
"Shhh, I'm listening to the tour guide" I told him.
He started meandering around, reading each one, when he came to a realization.
"Hey, I bet these mark the spots where home runs have landed" he said.
"Does anyone want to guess what these plaques on the street are for?" the tour guide asked.
Ryan's arm shot up.
"Are they the places where home runs landed?" he asked excitedly.
"Yes, sir" Bob told him.
In the years since Camden Yards opened 39 different players have hit 57 home runs that have landed on Eutaw Street. The first was Mickey Tettleton of the Tigers, on April 20th, 1992 and every once since has been marked out. The only player to have ever hit the B&O Warehouse was Ken Griffey Jr, but he didn't do it in a game, but rather during the 1993 All Star Game Home Run Derby. The most home runs hit onto Eutaw Street in a single season are eight, which happened in 2008.
A little farther down the walkway is the Orioles Hall of Fame, which has plaques to honor the many members of the Orioles' family who have played a part in the franchise's success over the years. As of 2012, there are seventy members, such as; Brooks and Frank Robinson, Mike Mussina, Rick Dempsey, Earl Weaver, Ken Singleton, Jim Palmer, Hoyt Wilhelm and Cal Ripkens, Sr. and Jr.
Also on Eutaw Street are sections 90-98, (Eutaw Street Reserved sections) which are not located in the stadium, but do have seats that lead down to the outfield. Once these sections are sold out, there are two standing room only areas that fans can purchase a ticket for and fill up on a first come, first serve basis.
Our next stop was inside the ballpark itself.
"It's about time, I'm hot" Ryan complained.
"Shhh, it's no hotter than it was in Boston" I reminded him.
"Do you remember how cranky
you were?
" he shot back.
"That was different" I told him.
"How?!"
"Cause I have been around longer and have had to deal with it more often" I said, hoping to make him laugh.
He just shook his head and walked through the Right Field Gate.
Retired Numbers
At this point, Bob pointed out the bullpens, the retired numbers that hung on the Left Field facade, discussed the kind of grass and clay used to comprise the outfield and the warning track and then asked a question.
"Can anyone spot the only two orange seats in the stadium and tell me what they represent?"
After looking all over, Ryan spotted one in left field and a man from Washington D.C. spotted the other, in the right-centerfield area. Bob explained that the one Ryan found was marking the landing of Cal Ripken Jr.'s 278th home run, (7/15/1993), which at the time became the new mark for shortstops, breaking Ernie Banks' record of 277. The other seat was the destination of Eddie Murray's 500th home run, (9/6/1996), which put him in rarefied company at that time.
In The Dugout
After taking in the outfield, Bob led us downstairs and onto the field itself.
"We get to go on the field?" Ryan asked, incredulously.
"How 'bout we go into the dugout?" Bob asked back.
"Can I take pictures with my dad?" Ryan wanted to know.
"Only if you take off that Yankees' shirt" Bob kidded him.
"I'm bringing a winning tradition" Ryan joked.
"We're only one game back, after last night" Bob reminded him.
"That's still second place" Ryan laughed
"How bout we take that picture of you and your dad?" Bob said, finally giving up.
After sitting in the dugout for a few minutes and talking about the heating/cooling/ventilation system that takes care of the players year round, we walked behind the home plate area and were greeted to quite a sight.
"Wow" Ryan gasped. "That's a great view"
Indeed it was. When you peer out at Camden Yards from behind home plate it is unlike anything you could imagine from your TV. It is more expansive than you would think and everything is a rich green, from the turf to the chairs. Every seat in the house is a dark green, except for the two mentioned before which are orange. For its first 18 years Camden Yards had a seating capacity of 48,876, and then in 2011 it was reduced to 45,971 and with standing room only accounted for, it holds 48,187. The dimensions of the park are 333 to Left Field, 364 to Left-Center, 401 to Left-Center (Deep), 400 to Center, 373 to Right-Center and 318 to Right, but looks much, much bigger when standing on the field.
"Let's all move inside" Bob called out to the group.
"Inside? Is there air conditioning?" my melting 11 year old asked.
"Yes sir, there is. You ready?" Bob wanted to know.
Ryan was halfway down the tunnel before Bob finished his question.
Inside the stadium Bob showed us the "family room", where players' wives and children can go during the game if they don't want to sit in their seats, the equipment room for the grounds' crew and the umpire's room. On non-game days the tour will take you inside the locker rooms, but since today was a game day we could not access that area for obvious reasons.
Press Booth
After taking an elevator upstairs, our first stop was "Media Row". Down the corridor was a glass enclosed case containing every media guide that the Orioles have ever printed. Directly past that, on the left, was the print media booth. This area has seats for all the credentialed members of the press, ports for their laptops and the most amazing view of the ball park that you can get while working. The spot is directly behind home plate, about 40 feet above field level and can be open aired. Ryan found himself a spot right in front of an A/C duct and looked like he would never want to leave. Bob talked about the seating arrangements and how it was determined by seniority and showed us some spots on the walls where foul balls had come through, sending writers scurrying to avoid getting their laptops destroyed.
O's Championships
Brooks' Gold Glove
After leaving media row, we were taken to the "Club Level" of the ball park. Here is where the fans who want to be able to take a break from the great outdoors can come to relax and enjoy. There are couches, chairs, carpeting and hot and cold beverage stands all over. Scattered throughout this section are mementos of Orioles' greatness from years gone. You can see banners that show all the A.L. East Championships, American League Championships and World Championships that the team has won, a display case for the World Series Trophies, Gold Glove Awards from certain players, a set of framed jerseys for all the retired players, an Orioles' Hall of Fame picture wall and many framed magazine covers and paintings from the team's history.
Ry, Emily and Heather With Cal
After a brief stop in a luxury suite, which did
not
have the A/C on, we were taken out to the area behind left-center field that houses the bullpens and the retired player statues. As you walk into the area, there is an open, tree shaded, park-like, spot (known as the Legends Area) where the Orioles have commissioned statues for all of their retired star players. The newest was Cal Ripken Jr, whose statute was unveiled on September 6, 2012 (the anniversary of the date Ripken broke Lou Gehrig's consecutive game streak) and will be followed by Brooks Robinson as the final piece of the outdoor tribute. The pedestal has been set and is awaiting the statue to be placed on it.
Tribute to Wrigley and Fenway
To the right of "Legends' Area" are the bullpens. As you look towards the O's bullpen, you will notice two walls, one ivy colored, the other a familiar shade of green. These are the Orioles' tribute to the oldest parks in baseball, Wrigley and Fenway. Below these walls is what is known as the sod farm. It is here that the grounds crew grows replacement sod, so that when the actual field needs some replaced, they come up here, cut it out and graft it into the playing area.
Heather, Emily, Ryan and I
At this time, our tour concluded. We thanked Bob, took some pictures and headed back out towards the Babe Ruth statue where we started our morning. We were all a bit warm, but the time inside the stadium had been perfect and we were ready to head on to our next adventure. Babe Ruth's birthplace.
"Everyone ready" Emily asked.
Heather and I nodded in agreement.
"How far is it?" Ryan wanted to know.
"Not far" Heather reminded him. "Remember how Bob told you to find it?"
"Oh yeah, I'll lead the way" he said, laughing.
The Babe Ruth Birthplace Museum
is located at 216 Emory Street in Baltimore, which is three blocks away from Camden Yards and there is a unique way of getting there from the ballpark. If you stand at the statue of The Babe, on Eutaw Street, and look down you will see a trail of baseballs leading away. If you follow these "breadcrumbs" (there are sixty, which commemorate Ruth's 60 HR's in 1927, which stood as the single season record until broken by Roger Maris in 1961) you will be delivered right to the front door of The Babe's childhood home. Ryan thought the trail of baseballs was a great idea and, like a bloodhound, put his head down and led us through the winding streets, counting as he went along.
"Hey, they stop here" he noted, looking somewhat confused.
"What's the problem?" I asked.
"Which house is the Babe's? They all look alike"
"Maybe it's the one with the plaque on the front that says "Babe Ruth Birthplace" I kidded him.
"Fargen Wisenheimer" was his response.
Babe's Childhood Home
The actual home is a nondescript brick row house that was originally leased by Ruth's grandfather and housed The Babe until he was sent to St. Mary's Industrial School for Boys, when he was six or seven. By the mid Twentieth Century the house had fallen on hard times and was scheduled to be demolished, until it was saved by Ruth's widow, daughters and sister. In 1974 the home opened to the public as a shrine and today serves as a memorial to the early life and times of The Babe.
"This place is tiny" Ryan said as we walked through the front door.
"Well he only lived here til he was seven" I reminded him.
"But he's
Babe Ruth
. Shouldn't he have had a nicer house?" Ryan was now puzzled.
"He wasn't rich growing up." I told him. "His parents worked very hard to make ends meet, as everyone did back then."
"Oh, so
baseball
made him rich" Ryan said.
"Yes, so keep practicing" I laughed.
As we walked through the front door it became apparent just how small this house really was. On the left, just past the cashier, was a tiny gift shop. Straight ahead was a small room that had been turned into a shrine of artifacts, pictures and a story of Ruth's entire life. Each wall, from floor to ceiling, held plaques of different sets of years from his birth, through his death. Above the far back wall are the jerseys of each team Ruth played for during his career, the Red Sox, the Yankees and the Boston Braves.
In the next room are the exhibits dedicated to the 500 Home Run Club, Babe Ruth in the movies (both about Ruth's life and movies he, himself, starred in) and a tribute to Babe being a family man as well as his fondness for children. Along the back of this wall, engraved metal tabs are lined up for all the home runs The Babe ever hit (714), in year order from first to last. Each tab has been donated by a person, or persons, and they too have their contributors engraved into the tab.
At the far left there is a circular staircase which is made from George Herman "Babe" Ruth Louisville Slugger baseball bats and leads to the second floor where The Babe's sitting room and bedroom have been preserved.
As soon as we walked in to the bedroom area, I knew what was coming and I grabbed my son by the shirt.
"Hey, what are you doing that for?" he asked innocently.
Babe's Bedroom
"Where did you think you were going?" I wanted to know.
"Well...Uh...Um...I was going to get you to take my picture on The Babe's bed" was the response I knew was coming.
"And you thought that would be a good idea, why?"
"Well, the bartender from Citizen's Bank Park, Regina, showed us the picture of when she did it and I thought it would be cool" was his humbled response.
"Think again, knucklehead. There's a reason it's blocked off."
"Fine" he muttered, unhappy at being corralled.
After Ryan's attempt to circumvent the barriers in the bedroom, we had seen the whole house and it was time to move on. We called Nicole and Brendan, who were just finishing up at Discovery Zone, and decided that we would all meet for a quick bite and a beer at a local place and then catch the train back to the hotel to get ready for the evening.
We decided on
Dempsey's Brew Pub
, which is located at Camden Yards and walked over. The restaurant is new and is named after former Orioles' fan favorite, Rick Dempsey. Dempsey played for the Orioles for ten years (1976-1986) and won the 1983 World Series M.V.P.
Crab Cakes
When you walk in, the dining room is open and spread out before you, with a large bar in the center. The restaurant is child friendly and boasts a large varied menu that has the standard pub fare (burgers, chicken sandwiches, nachos, wings, etc) as well as some local dishes, such as Maryland Crab Cakes, Chesapeake Crab Dip, fish tacos and crab pretzels. There is a large array of local beers on tap, as well as homemade brews with a baseball theme, which are made on premise; Red Ale, Wild Pitch Wheat, Rain Delay I.P.A. and '83 Golden Ale. We decided on a combo of sliders, (crab cake, BBQ Pork and cheeseburger) as well as the crab pretzels, crab flavored french fries, wings and a sampler of all the beers. The food was great (the crab cake sliders were the best) and the staff was friendly, warm and inviting. I would highly suggest having a beer and an appetizer here, if you have the time. After our quick nosh, it was back on the train to the hotel to clean up, relax and get ready for the game.
Back at the hotel we quickly became inundated with our family and friends, many of whom had been to games with us before and were joining us for our last game of the season. My cousin Christine and her husband Jimmy (Nationals' Park), my cousin David, his wife Lisbeth and daughter Sarah (Nationals' Park), close family friend Rob Zoch (Yankee Stadium, Nationals Park), Ryan's Ramsey Gold teammate Nick, and his dad Tony, as well Jimmy's cousin Charlotte and friends from their bridal party, the previous summer, all joined us after checking in.
For a while our hotel room was Grand Central Station, but it was all good. People came and went, beer flowed freely and food was consumed, while the kids played, talked and laughed and the adults conversed. A late summer storm blew in, but even that didn't dampen the spirits of all that were looking forward to an evening at the ballpark. I knew it was time to go when I heard Ryan talking to Nick about ballpark food and what he was looking forward to having. Everyone got up, made sure they had their tickets and headed out the door. Emily, Nicole and Brendan decided they were going to head over closer to game time, so the rest of us piled into cars, trucks and the hotel van for the trip to the ballpark.
Starting Lineup:
Jim Kulhawy
Nicole Kulhawy
Ryan Kulhawy
Brendan Kulhawy
Heather Booth
Emily Weiner
Robert Zoch
Jim DeYuulis
Christine DeYuulis
David Denner
Lisbeth Denner
Sarah Denner
Tony D'Angelo
Nick D'Angelo
Charlotte Burnley Moore


After arriving on the train, we found Christine, Jimmy and a few other folks who had taken the cars and trucks over and were tailgating in the parking lot. The rain had, for the most part, stopped and we enjoyed some food, beers and the company of family and friends. Ryan and I spent most of the time talking about our trip, where we had been, whom we had seen and how it all came to be. Our friend Tony, and his son Nick, decided to go in a bit early and look over the ballpark as they had never been before, while the rest of us stayed in the lot for about 45 minutes until I heard the inevitable comment from Ryan.
"I'm hungry. Is it time to go get our ballpark food?"


That meant it was time to go, so we grabbed Rob and headed into the stadium to grab our dinner and get to the seats. After all, first pitch was only 45 minutes away.


Concessions:


Like all ballparks, there is plenty to eat at Camden Yards. The stadium offers a wide assortment of food and beverages for fans to choose from. Along with the usual ballpark fare (hot dogs, soda, etc.) Camden Yards has some quality eateries. "The All Star Cafe" (section 230-242) offers the usual menu, but for those that want more you can choose from: "Baseline Burgers", "Blue Moon", "The Club Grille", a deli for sandwiches, "Ginos" (chicken fingers, fries, hot sandwiches, etc.) "Jack Daniels' Grill (BBQ foods) a kosher eating spot, "Old Bay Seafood", "The Baltimore Chop House" and "das Sausage Haus".


There is also a large selection of spots to grab a beer, whether it is a mass-produced domestic or import, a micro-brew or a selection of local fare. Places such as "The Bar Lounge", "Beers of the World" "The Budweiser Patio", "The Free State Pub", "The Natty-Boh Bar", "Old Line Micro Brews" and "Pickles Pub" are scattered throughout the ballpark.


For desserts and snacks, there is "Carvel" ice cream, a cotton candy stand, "Flying Fruit Fantasy", funnel cake stands, "O's Hand Rolled Pretzels", peanuts, popcorn, Cracker Jacks and many nacho stands.


"C'mon, I'm hungry and the line is long" Ryan insisted, grabbing my hand and tugging.
"Where are we headed" I asked, even though I knew the answer.
"You're kidding, right?" he asked incredulously, stopping dead in his tracks.
"Of course I am" I laughed, "Let's get to Boog's"


Boog's BBQ
"Boog's BBQ", is not located inside Camden yards, but rather on Eutaw Street, just outside the ballpark's gates. It is about halfway down Eutaw, open aired, and covered by a green tent. The concession is owned and operated by former Orioles' first baseman Boog Powell and serves some of Maryland's best barbecued pork and beef. On most games days Boog is outside the eatery to meet, greet and sign autographs for the fans.
As you approach the stand, the smell of the cooking meats is overwhelming. You just want to stand in the midst of the swirling smoke, as it wafts over you and take in all the wonderful smells. I got the chance to do that for all of about 3 seconds before Ryan once again grabbed my hand and started dragging me towards the line.


"C'mon, I'm staaaaaarving" he pleaded.
"How can you possibly be hungry after all you've eaten today" I wanted to know.
"Are ya new? Have ya met me?" he responded laughing.
"You order for us" I said, knowing it was futile to resist. Besides, I was hungry too. "What are we having?"
"Well, I think we'll have the barbecued beef sandwich, with cole slaw, beans and some chips. You get a beer and I'll have a coke."
"Sounds like a plan I said" as I listened to him order in his most polite voice.


We took our food and headed to the seats to enjoy our delicacy.
As we sat down and started to unwrap our insanely full plate of food you could smell the tang of the barbecued beef, mixed with the smoky brown sugared baked beans. Of course Ryan wanted to dig in immediately, so I let him.
"Remember, half this plate is mine" I said, half joking.
"You can have the half that doesn't include the sammich" he said through a full mouth.
I laughed, pulled out a knife and proceeded to make sure I got a portion for myself. But, truth be told, I did leave him with the bigger "half".


The Sammich
The sandwich was piled high with freshly grilled beef. We had asked for a liberal dose of sauce and to our happiness, they gave us more than enough. I added a small amount of raw onions and added some of the slaw to the mixture and took my first bite. I instantly became lost in the smoky, sweet, mix of the medium rare beef, the tangy BBQ sauce, the sharp bite of the onion and the creamy crunch of the slaw.
After finishing my first bite, I took a spoon to the beans. They were cooked just right, tender, yet firm and had a smoky taste that was enhanced by what I think was brown sugar and had a hint of maple flavor as well. I must have had a faraway look on my face, because Ryan just smirked at me and said; "yeah, it's that good", and it was. A sandwich from Boog's is a must when visiting Camden Yards.


The Game:


As we finished our dinner the rest of our group started to straggle in and take their seats. Ryan and I took a look at the starting lineups and the two pitchers and decided we were in for a good game. We especially liked our chances with Sabathia on the mound, as he always gives us a good chance to win.


The game got off to a great start with a single by Derek Jeter. After Swisher popped up, Teixeira doubled and the Yanks had men on second and third with only one out for Alex Rodriguez. We were hoping for a single, which would have scored two runs, but A-Rod hit a sac fly and only brought in one. Cano then grounded out to end the inning, but the Yanks had a 1-0 lead and that was OK in our book.
First Pitch To Jeter
Sabathia put the O's down 1-2-3 in the first, with a strike out and two pop outs, so we headed to the second with the Yanks leading. There were dueling "LETS GO YANKEES... LETS GO O'S chants popping up all over the stadium and the electricity was palpable in the stands, as first place was on the line.


In the top of the second Russell Martin walked, after Andruw Jones looked at strike three (go figure) Ichiro doubled Martin home for the second run in as many innings. Ryan, Nick, Rob and I exploded from our seats as Martin crossed home plate and Ichiro rolled into second standing up. For the second inning in a row, the Yanks had a runner in scoring position with less than two outs. Unfortunately, Nix and Jeter couldn't bring him in and we once again had to settle for only one run.


As thrilled as we were over a 2-0 lead, it vanished in the space of five minutes. After retiring Adam Jones, Sabathia allowed back to back homers to Mark Reynolds and Lew Ford, which tied the score. The big man got out the next two batters, but the damage had been done and the O's fans now had the chance to cheer. Needless to say, we were not happy.


The Yanks went down 1-2-3 in the third when Swisher and Teixeira grounded out to short, and A-Rod once again flied out to the outfield. Things didn't get much better when C.C. allowed the go ahead run, with two outs and a man on first, to be driven in on a double by shortstop J.J. Hardy. The O's fans cheered, most Yankees' fans groaned and Ryan, Nick and I let our unhappiness be known.
The score stayed 3-2 for the next three and a half innings as neither team could push across more runs. Sabathia seemed to have settled down and the combination of Sanders and O'Day kept the Yanks off the board as well, though they did have more than a few chances, leaving three runners stranded as the strikeouts and groundouts piled up.
Jimmy and Christine Celebrating
In the bottom of the sixth, Baltimore broke through again. Hardy led off the inning with a home run, Adam Jones doubled and Lew Ford singled him home for another run. The O's led 5-2 and the Yankees' offense wasn't done giving us a headache.
Neither team did anything in the seventh, but in the top of the eighth A-Rod hit a two out homer to cut the lead to 5-3. Cano then walked and Martin singled, which put runners on the corners, before Nunez pinch ran for Martin. However, Girardi inexplicably didn't let Nunez run, and Granderson popped out to end the inning, which increased the frustration and the grumbling from every Yankees' fan in the building. But, the worst was yet to come.
Codey Eppley, who came in for Sabathia with one out in the seventh, worked around a one out walk to Mark Reynolds and retired the Orioles without allowing another runner to come in. This set up the Yanks for a bottom of the ninth against the O's closer, Jim Johnson, who was leading the American League with 41 saves. Things didn't look good, but we weren't about to give up. The kids put on their rally caps and we started a loud LETS GO YANKEES chant as Johnson took the mound.
Ichiro led off the inning with a single, then Eric Chavez followed with another. When Derek Jeter followed with an infield hit, the bases were loaded with none out and the Yankees' fans were going wild.
Nick Swisher was the fourth batter of the inning and a single would tie the game. Swisher smashed the ball at shortstop J.J. Hardy, who made a difficult play, but got the force out at second while Ichiro scored and Chris Dickerson, who replaced Chavez as a pinch runner, moved to third. The Yanks were now down 5-4, but had runner at the corners, with one out and Mark Teixeira at the plate. There was no reason to think we couldn't tie this game. No one, however, counted on the ineptness of first base umpire Jerry Meals.
Teixeira took the first two pitches for balls. Johnson got the next two for strikes, Teixeira fouled off the fifth pitch to stay alive and keep the count at 2-2. On the sixth pitch of the at bat, Teixeira put the ball in play, with a smash to the left of the second baseman. Robert Andino scurried over to field the ball... scooped it up... threw to Hardy, covering second, which forced Swisher for the second out of the inning...relayed to first...Teixeira dove headfirst into the bag...
"SAFE" we all screamed, jumping up and down, high fiving and hugging.
"HE WAS OUT"
Only, he wasn't called safe. He was called out on what can only be described as a horribly botched call. Teixeira had slid head first into the bag and was
clearly
safe. His arm was across the bag before Reynolds even had the ball in his glove, yet somehow Meals didn't see it that way.
"
WHAT THE HELL!
" Ryan screamed over the din.
"
ARE YOU KIDDING ME, MEALS?
" Tony yelled out.
"
HE WAS SAFE, YOU MORON
" Brendan chimed in
I can't print what came out of my mouth; this is a family blog, after all. But, suffice to say, I was not happy and everyone around me knew it as we shuffled dejectedly out of the ballpark alongside happy, cheering Orioles' fans.
Post-Game Wrap Up
Blown Call
To make matters worse, Rob found a picture of the play on the internet while we were waiting for the train to take us back to the hotel. This did nothing to help my mood and it actually set Ryan off again. Nicole, Emily, Heather and Brendan made sure they stayed as far away as possible, as I showed everyone within voice range the damning evidence on the ride back.
"We were in left field and we could see he was safe" Ryan complained, "How the hell did the ump miss it?"
"Heck" I said to him.
"Heck, what?" he wanted to know.
"Say heck, not Hell, or your mother's going to have my head" I told him.
"If this isn't a time I can say Hell, what is?"
"You're right" I told him, "I don't know how the
Hell
he missed it."
Ryan laughed, Nicole did not. Fortunately, she wasn't going to call me on it...now. But I knew I would hear about it later and would deal with it then. Right now I was too annoyed. I just had a game, or at least the ability to get to extra innings, stolen from me by an umpire who obviously needed corrective lenses.
"It's payback for Jeffrey Maier, deal with it" some knucklehead said from a distance where he was safe from my getting near him, but not from my tongue.
"If you're still complaining about 1996, this team is even more pathetic than I thought it was" a voice from my left called out, before I had a chance to.
The rest of the train ride back was silent for me. I was mad, frustrated, annoyed and upset...all at the same time. Once we got back to the hotel, Nicole and Emily went upstairs to get ready for bed while Jimmy, Christine, Rob, Tony, Heather, David and I had a post-game tailgate party, with the leftover food and beer in the parking lot, and Ryan, Brendan, Nick and Sarah decided to play "Manhunt".
Eventually the tailgate petered out and we all had to go to inside. Rob headed home, the boys, Heather and I cleaned up and went to bed, but I couldn't sleep. I tossed and turned and thought of what could have been...
should have been.
"
ARRGH
" I heard from the sleeping bag at the foot of the bed.
"You too?" I asked.
"
HE WAS SAFE
" Ryan said back, annoyed.
"That he was, but there is nothing we can do about it now."
"Doesn't make it right" he complained.
"No, but it's a long season and we'll win tomorrow" I told him.
"Great, but we won't be there tomorrow. It'll be like Boston, all over again. They lose the game we go to. No Yankees' games on our tour next year, I don't want to deal with this" he muttered.
"Deal" was all I said in response.
Sunday: The Aftermath and the Ride Home:


We woke Sunday morning, cleaned up, packed the car and headed downstairs to breakfast. Ryan and I were still upset (in case you didn't notice, we tend to dwell on things), but we were hungry and I hoped the breakfast bar would take care of that. What I didn't know was that Teixeira had injured himself on "the play", last night. Apparently, he re-injured his leg trying to bust it down the line and beat the throw, which he did, but the ump screwed up and he would now be out for another 3-4 weeks. UGH....


I broke the news to Ryan after he finished eating; I knew what was coming and wanted him to at least get some food in him before it did.


"Are you effin' kidding me?"


Thankfully, he did say "effin", which was certainly better than the alternative


"First, the knucklehead blows the call and we lose the game. Now, we lose Tex as well?"
"That's about the size of it" I told him.
"AAARRRGGGHHH" was the only response I got.
"C'mon, let's head home. We have a game of our own later today" I reminded him.
"Hey, this was our last game this year" he said, somewhat sadly.
"Yup, nothing more for us this year. Did you enjoy?"
"Yankee Stadium, Fenway Park, Nationals Park, Citizens Bank Park, Citi Field and Camden Yards" he said, smiling. "It was great. Where do we want to go next summer?" he wanted to know.
"We have plenty of time to decide" I told him.
"You're right. We'll talk it over tonight, after my game. But no Yankees' games" he said, very seriously.


I just laughed, ruffed up his hair and opened the door to the van. It was a great first part of our adventure and we had a blast. I couldn't wait for next summer and I knew he was right...we did have all winter to decide where we would go in 2013...But we would do it later that night. Smiling, I started the car and headed north, towards our first game of the Fall 2012 season.